Summer term 2020 was special. Most universities start their summer term in April and thus, with the onset of the Corona outbreak in March, their preparation time given the circumstances was reduced drastically. One of the major challenges was that face-to-face lectures had to be planned online. In a very short amount of time, new online conference systems were established, and the necessary technical support was partially organized with the help of student tutors. Even though people who work on international projects are already used to video conferencing solutions, the amount of potential technical difficulties is still high and bandwidth issues can destroy all previous efforts.
Instruct, as an e-learning provider, observed a strong increase in online lectures and virtual patient usage in our system. Even institutions that already use our system CASUS and offer numerous online courses outperformed their previous numbers (Graphic 1).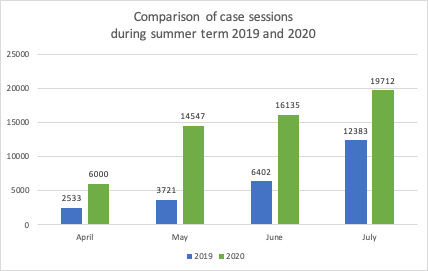 The peak in July is the result of exam preparation. We also registered slightly more support requests, however, these were still easily manageable.
In the media, both researchers and newspapers made online learning one of their central themes, especially regarding possibilities on how the current circumstances will impact e-learning in the future. Their findings are not necessarily novel, as can be seen in an article from the New York Times (https://www.nytimes.com/2020/06/13/health/school-learning-online-education.html?smid=em-share), "[…] students tend to learn less efficiently than usual in online courses […]. But if they have a facilitator or mentor on hand, someone to help with the technology and focus their attention — an approach sometimes called blended learning — they perform about as well in many virtual classes, and sometimes better."
In an article from the German newspaper, Sueddeutsche Zeitung, called "Schluss mit dem Digitalgejammer!" ("Stop complaining about Digitalization!") (https://www.sueddeutsche.de/bildung/hochschulen-und-corona-schluss-mit-dem-digitalgejammer-1.4985116 ), the author highlights the discrepancy between educators moaning about a lack of personal interaction, exchange and dialogue in e-learning, while in reality seminars and lectures are quite often overcrowded permitting no interactivity whatsoever, not to mention dialogues and conversations are rarely feasible. The author states that students might miss pre-Corona campus life, but educators believe and hope that various other reasons also play into this.
It's exciting to see how this transformation will shape the future, and it seems as though we have a special winter term in store for us, too – this time we will have slightly longer to prepare. One thing is for sure: it's time for more and better blended learning solutions.